Hi,
Recently I had a poll on Twitter asking what my next subject should be here on the blog, and the winner was profile management. I like that subject because it lays the ground for so many things in the user experience in any work scenario containing IT, and thereby also Citrix which I spend a lot of my time on.
In this first part I will list some of the deciding points when choose type of profile and which options I will be testing in this blog series.
Profile types
First let's have a look at what type of profiles we can choose from:
Local
Roaming
Mandatory
Hybrid
If we look at the capabilities of each type we get this (From the Citrix VDI handbook)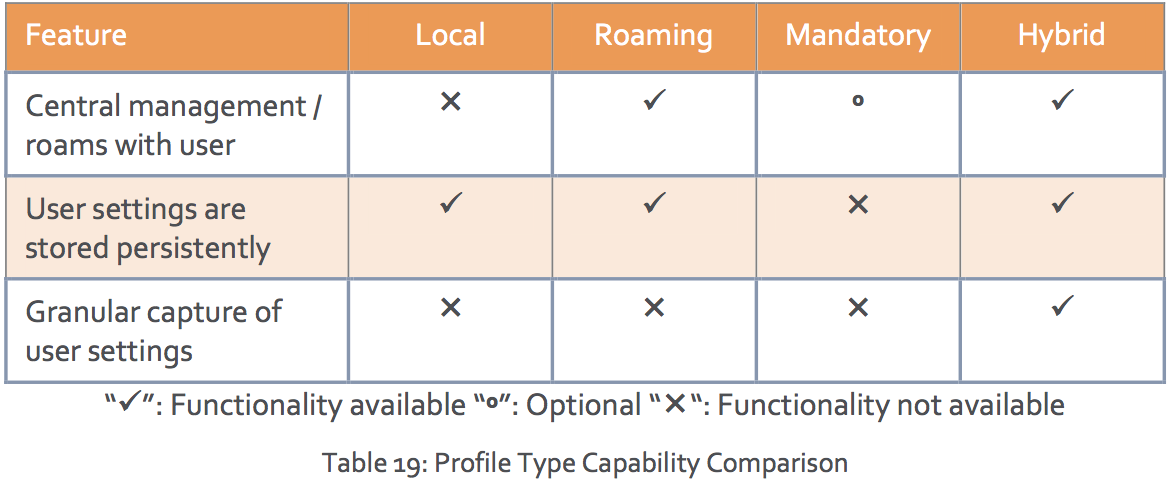 I have personally used Roaming, Mandatory and Hybrid in the Citrix deployments I have been involved in, but 99,9% for me has been either Roaming or Hybrid. If we look at what Citrix recommends using in the deployments we see out there we get this (Again from the Citrix VDI handbook)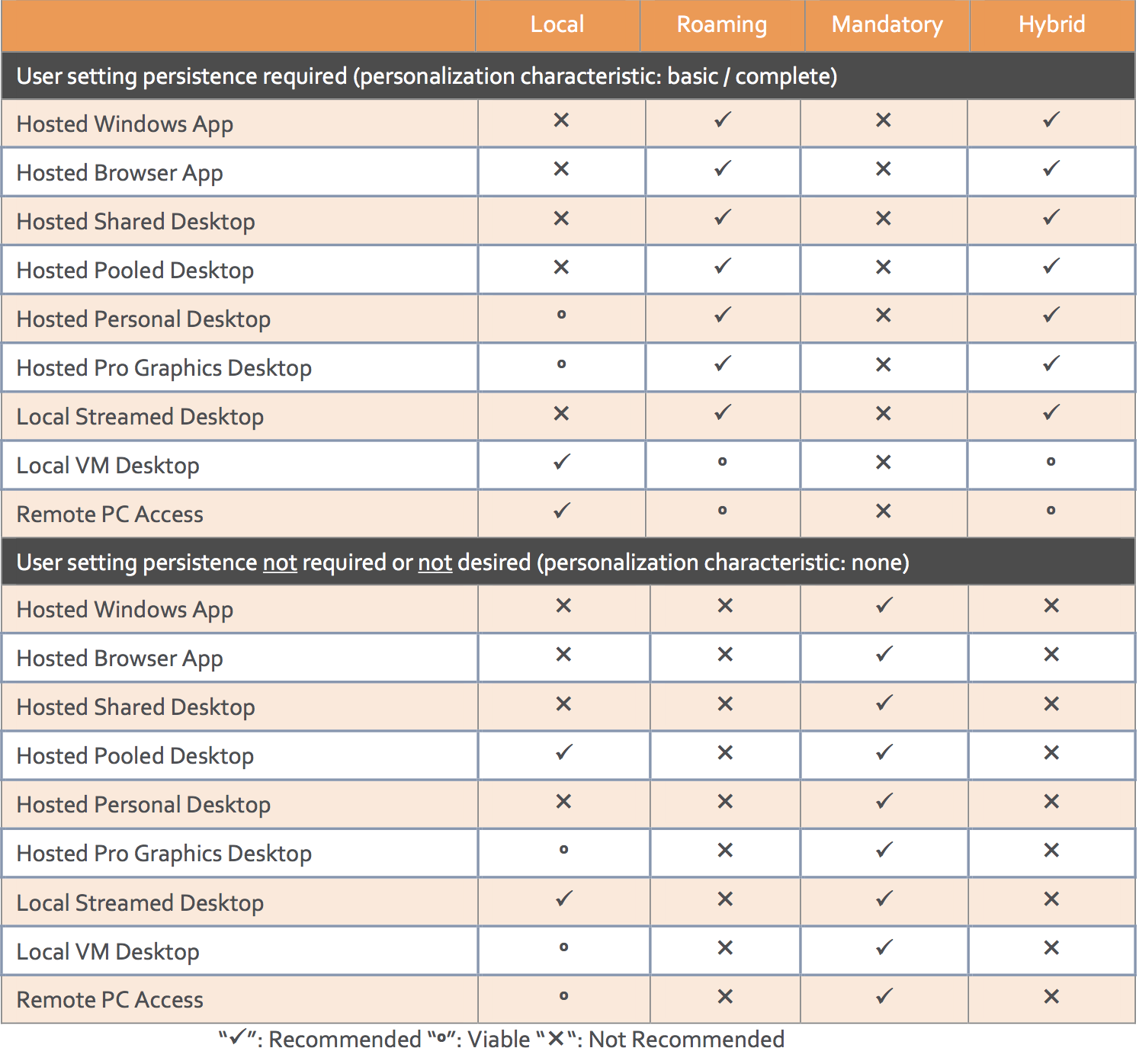 As we can see from the table above Citrix recommends roaming or hybrid profiles for almost all deployments that needs user settings persistence. This doesn't come as a surprise since we need a consistent experience for our users. On the flip side, mandatory profiles are almost the only recommended solution for none persistent user settings.
An example on a hybrid user profile is Citrix User Profile Management. The meaning of a hybrid profile is that you can include and exclude just about any part of the user profile based on what you need, this could be registry keys, files or folders.
Folder redirection
Another big part of the user experience and profile management is the folder redirection part. We use folder redirection to reduce the size of the profile but still have persistence in those folders. When we look at what the Citrix VDI handbook recommends in this area we get this: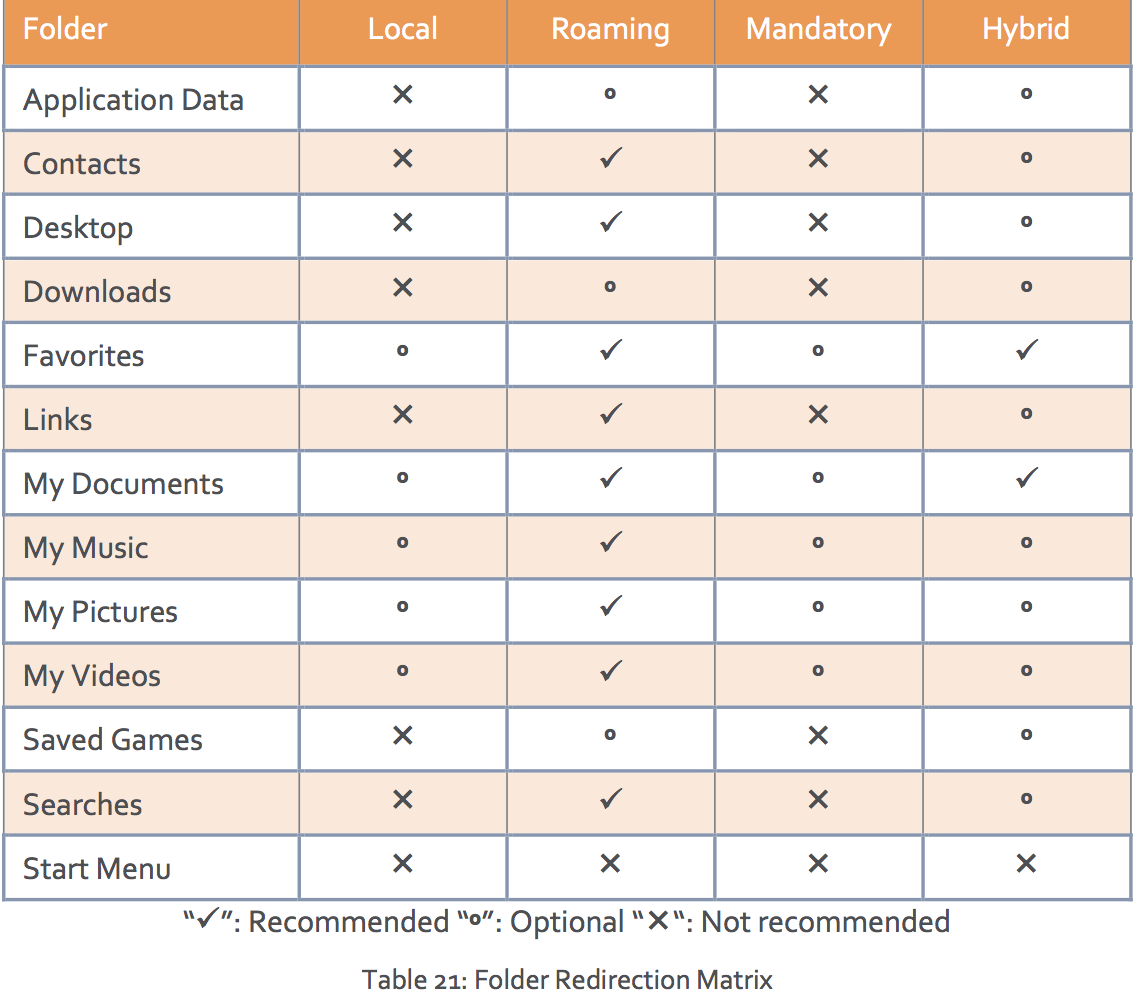 I quite often follow the recommended roaming settings for both roaming and hybrid profiles. I agree to a most of the listed from Citrix but the "Favorites" marked as recommended is something I don't quite get. From my point of view this should be marked as an option and could often be left in the profile since in most cases we are talking about a small number of files and small size so keeping them in the profile should be fine. Another point about the favorites is that it seems that every time you write a letter in the URL bar in internet explore a call will be made to the file server over the network and thereby putting a lot of load onto network and file server.
My recommendations
My recommendations to profile management isn't much different from a lot of others out in the community, you need to analyze, access, test and test again. My standard setup that I normally start out with looks like this:
Roaming or hybrid profile (if FSLogix is not an option)
Folder redirection for

Desktop
Downloads
My Documents (with music, pictures, videos to follow documents)
Next part of the series will be about
The next part of this blog series will be about the products and digging a bit deeper into each of the solutions I am going to test later. The products I will be digging into is Microsoft Roaming Profiles, Citrix Profile Management and FSLogix, ironically these are all different types of profiles, but can be used for a lot of the same scenarios.