So, attending my first Citrix Synergy this week and starting it all off with some instructor led labs.
A little background on workspace IoT is that it connects apps, data, devices and people. The goal is to create the best user experience and reduce the complexity for users. Combining applications, data and users with IoT you have the ability to make information flow both ways in an infrastructure and using analytics/BI you can makes the information easy to read and use.
IoT is about engaging with devices and depending on what is happening in the space around a device different things can be started, shutdown or any other action you want to happen. The workspace hub can collect information from devices and upload and interact with other systems to offload for instance healthcare data for a patient from an iPad into the medical journal when entering a room.
Boundaries can be Wi-Fi or Bluetooth and there can be multiple boundaries inside of the same building.
The lab about workspace Internet of Things (IoT) was very good and we learnt how to setup a basic flow that can be used for meeting rooms. The session was intended to get started with Citrix Octoblu and after the session we had an idea about how a meeting room could be set up to make it easier for end users. The flow didn't integrate with Skype for Business or any other online meeting provider, but it did show what was needed for the rest of the workflow. When I get back after Synergy I hope to try the Skype for Business integration so we can demo how it is working for our customers. Below is a picture of how the workflow we created looks.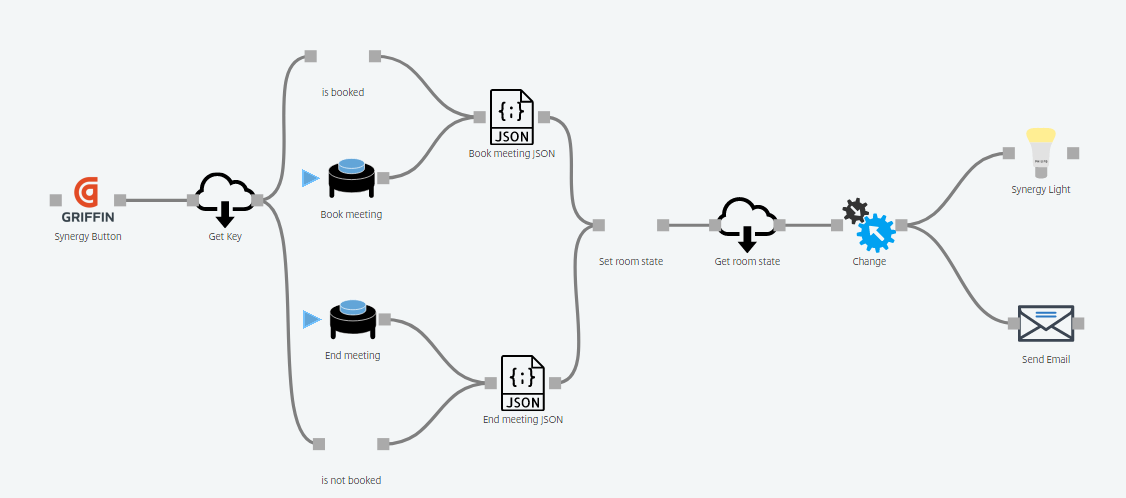 If you have any use cases about using IoT I would love to hear about it.
To find more information about workspace have a look at this page:
https://www.citrix.com/products/smart-spaces.html product information page